The YogaWorks training completely changed my life! -Jess, engineer

I chose YogaWorks because it is internationally known and extremely comprehensive. -Melissa, school teacher and part-time yoga instructor


My intention was to deepen my personal practice and become a better teacher for my students. -Carolyn, fitness professional and previously certified yoga instructor


YWTT was one of the most insightful experiences of my life. -DD, nurse and part-time yoga instructor


I'm so glad I decided to get the most profound training for yoga teachers that's out there. -Mara, pilates studio owner and previously certified yoga instructor


The YWTT training is a soundly structured and comprehensive program dedicated to helping students learn more about yoga. -John, attorney


I recommend this training for anyone interested in learning about yoga, anatomy and themselves! -Liz, mental health counselor and part-time yoga instructor


I took the YWTT to deepen my practice and to inspire others. -Ara, yoga instructor


What an incredible experience this training has been. The knowledge I have gained is priceless. -Carol, massage therapist and yoga instructor

Over 24 Years of Yoga Teacher Training Experience
---
Since 1990, YogaWorks® — the world's leading yoga teacher training program — has trained thousands of yoga teachers, including Seane Corn, Shiva Rea, Ana Forrest, Baron Baptiste, Vinnie Marino, Saul David Raye, Natasha Rizopoulos and many other renowned instructors. YogaBalance® is New Hampshire's exclusive provider of YogaWorks YTT. Our next 200-hour, 10-month/12-weekend program will meet in Manchester, NH, from September 13, 2014, to July 26, 2015. Download our schedule.
YogaWorks offers the most comprehensive YTT program for aspiring teachers and serious students of yoga by blending the best of yoga traditions from the East and the West. Our mission is to provide aspiring teachers with the foundation to instruct skillfully with compassion, integrity and safety, while honoring each YTT student's unique voice.
The dynamic and conscious practice of asana is the cornerstone of the YogaWorks method. To deepen one's education, you will also study anatomy and physiology, explore yoga's philosophical underpinnings, practice meditation and pranayama, as well as investigate the subtle body and Ayurveda.
Your YogaWorks certificate will be recognized and respected by yoga studios around the globe.
Yoga Teacher Training Course Curriculum
---
Theory and Practice of Yoga
Our
The YogaWorks YTT will deepen each student's personal practice, because this is the source for creative instruction. It will also include a comprehensive study of the techniques and mechanics of the fundamental yoga postures, while providing the tools necessary to teach yoga to others. To facilitate a more scientific understanding of the body, your training will include the study of functional anatomy. In addition, YogaWorks YTT moves beyond the physical to the study of meditation, pranayama, Ayurveda and the chakra system.
Topics Include:
Intensive asana study
Fundamentals of anatomy and physiology
Principles of pranayama
Restorative and pre-natal yoga
Subtle body and the chakra system

Yoga Philosophy
Over 2,000 years ago, the sage Patanjali described the process of yogic movement towards a higher consciousness in his treatise The Yoga Sutras. His teachings are a living, practical model that, once understood, can be applied to all aspects of life today. They serve to deepen the awareness of our relationship to ourselves, others and our environment.
The Theory and Practice of Teaching
The art of teaching is a form of yoga in itself, requiring sensitivity, compassion and practice. A teacher must encourage and inspire, being sensitive to the needs of individuals as well as a group.
Topics Include:
How to be an effective teacher
Use of voice, body language and touch
The art and science of sequencing
Learning to see and understand bodies
The purpose and use of props
Hands-on adjustments and assists
Extensive practice instruction
About YogaWorks®
---
From India to Santa Monica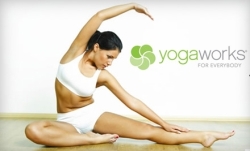 YogaWorks' founders — Maty Ezraty, Chuck Miller and Alan Finger — were all highly accomplished yoga practitioners who wanted to share the gifts they learned from their wise teachers. In 1987, they opened YogaWorks' first studio in Santa Monica where they carefully weaved together many styles of yoga under one roof, and attracted the best teaching talent in southern California. They sought to uphold the 5,000-year tradition of yoga by infusing their programs with integrity, quality, authenticity and a warm welcome to every student.
In 1990, when the demand for well-trained yoga teachers began to grow, Maty and senior teacher Lisa Walford created the world-renowned YogaWorks Teacher Training program by blending the heat and flow of Ashtanga, the precise alignment of Iyengar and the holistic approach of Desikachar. YogaWorks — in conjunction with YogaBalance — is pleased to provide training based on direct teachings from yoga masters to yogis throughout northern New England.
About YogaBalance®
---
Manchester's Longest Standing Yoga Studio
Award-winning YogaBalance offers the widest selection of yoga classes and professional instructors in New Hampshire. We are partners with internationally renowned yoga master teachers and organizations, including YogaWorks, Yoga Journal, Kripalu, Himalayan Institute and Wanderlust. YogaBalance's owners are regular presenters at yoga conferences across the country.
YogaBalance is the ideal location for serious yoga teacher training students throughout northern New England. Our YTT students come from New Hampshire, northern Massachusetts, Vermont, Maine and even upstate New York.
We look forward to having you join our next YTT program.
Yoga Teacher Training Program Details
---
How to Apply

Download our application

Location and Directions

603.625.4000
Free, unlimited parking

Program Dates

September 13, 2014, to July 26, 2015
Twelve (12) weekends
Download our schedule

Times

Saturdays 11:00am — 6:30pm
Sundays 11:00am — 4:30pm

Free Information Session

Saturday, May 31, 2014, 1:30 to 3:30pm
Join Jocelyn for a free YogaWorks Level 2 class, followed by a YogaWorks YTT information and Q&A session
Enroll Online

12-hour YogaWorks Weekend Immersion™

Saturday, August 16, and Sunday, August 17, 2014, 11:00am to 5:00pm
Join Jocelyn for a pre-YogaWorks YTT Weekend Immersion™
If you enroll in our YogaWorks YTT, your $250 Weekend Immersion fee will be applied to your YTT tuition
Enroll Online

Tuition

$3,250 until early registration date of August 17, 2014
$3,500 after August 17, 2014
Payment plan available to a few enrollees by contacting Liana at LianaS@YogaWorks.com
Tuition includes five (5) YogaWorks YTT manuals, consisting of 700 pages of original text

Post-Graduation Teaching Opportunity

Successful graduates will be invited to teach a YogaWorks YTT Graduate Class on a Friday evening to YogaBalance's student body. YogaBalance will donate $5 per attendee to each teacher's favorite charity.

Contact

Liana
Program Advisor, YogaWorks Teacher Training
(310) 664-6470 ext. 158
LianaS@YogaWorks.com

YogaWorks Instructor

Jocelyn Casey-Whiteman
YogaWorks 600-hour YTT program leader certification
YogaWorks 500-hour certification
YogaWorks 200-hour certification
Prenatal yoga certification
Restorative yoga certification
Full-time instructor at NYC YogaWorks studios
Master's Degree from Columbia University
Former faculty member at Ballet New England

Accommodations